Classy Condo Living: Basking on the Balcony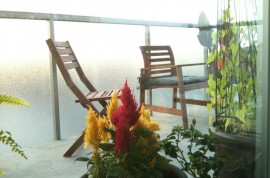 According to Statistics Canada, one in eight households now live in a condo. Frosted glass barriers and concrete walls separate neighbours all living very close to each other, beside, across, below, and above from one another. When living so close, there are certain tips you need to know to enjoy your condo living and balcony to its full extent. Being situated up above the hustle and bustle of the city can transport you to a more peaceful and relaxing place. You can use the space to socialize and dine while basking in the sun, avoiding all the construction and garbage blowing around the streets below. Having a condo is a great way to move into the city, yet still keep that suburban feel.
In a large city like Toronto, Canada's major condo market, making friends with neighbours is not so easy. Most people keep to themselves. Etiquette experts offer some tips to make balcony lounging more enjoyable for the summer.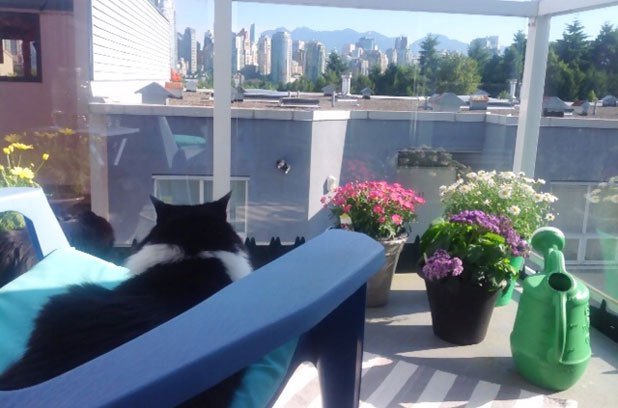 Get to Know Fellow Neighbours
Go ahead and wave. Introduce yourself on a nice, sunny day and break that awkward tension of pretending there is no one on the other side of the balcony barrier. Even if you don't know them, they've most likely heard your conversations, your after work gossip or even seen you in your bikini. Keep your balcony lounge area clutter-free in order to get that stress free atmosphere and make the most of your condo living.
Respect is a Two-Way Street
Plan a dinner party outside. Don't worry about putting on that summer playlist on the balcony as long as the volume is reasonable and respectable  for neighbours. Fingers-crossed that they have a similar taste in music. If you find their music too loud you can simply knock on their door and ask them nicely to keep it down. It may not always go so smoothly so its a good idea to get friendly and introduce yourself sooner rather than never.
Take in the Bird's Eye View
No one likes having things drop down on them, especially from who knows what balcony above. A tip before watering your plants is to invest in a few cheap liners to catch the run-off. If you are unfortunate enough to have something else drop down onto your balcony, you have to choose your battles. You'll never really know where a cigarette came from and you don't want to accuse the wrong person. Rather than investigating, you'd rather let it go and spend your time soaking in the view.
Worst-Case Neighbours 
Condos in the big city come along with  bylaws to keep balcony lounging behaviour acceptable. Most neighbours opt to work out their differences but the worst cases can make it to the highest courts. It may be difficult to determine who threw the cigarette butts but you can easily report them to property management. It is part of their job to resolve  the conflict especially when cigarette tossing has been reported not only to be a property nuisance but also to causing furniture damage and even fires. Dangerous! In Vancouver (2010), a condo dweller took the liberty of installing a hot tub, TV and speakers on his large balcony. The neighbours started to get annoyed and their complaints were heard loud and clear in the Supreme Court of British Columbia. In 2012, the judge limited the hot tub parties and banned them between 11pm and 8am as a building rule.
Customize Your Condo Living
Bring up your balcony lounging to its full potential! Make a good impression on your neighbours while you're at it. The Big Green Egg is on top of the list for charcoal cookers (Prices upon request. Go to biggreenegg.ca to locate a dealer). It is true that most building do not  allow ceramic grills, but some condo dwellers still go ahead and use small and more discrete BBQ's made especially for balconies so that the smoke does not bother other con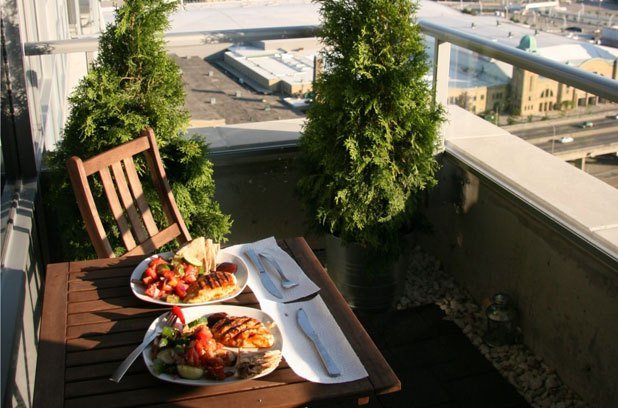 do unit dwellers. Invest in a serving trolley to make your cocktails on. Perhaps the Sumatra Serving Trolley from Urban Barn ($229. Go to urbanbarn.com to find a store near you). It looks classy and convenient. Don't forget about plants! You should consider a few garden planters to bring colour and life to your balcony and make your condo living more enjoyable ($14.99. Go to canadiantire.ca to find a store close by).
Related posts